Trade on a Graphical User Interface (GUI) that's easy to use and its Dock & Tab environment, allows traders to customize and pack more information into the desktop than ever before.
In addition, ProTrader Plus empowers the trader with a suite of automated analytical tools to help every one trade like a pro. Trial version available – Quick download & installation.
Maximize Profit Potential with Strategy Optimizer™
Strategy Optimizer™ allows traders to quickly maximize profit potential and minimize risk for any price / time market expectation. The built-in analytical tool analyzes all possible permutations of strikes and expiries in a given symbol to determine the most efficient combination of long and short puts and calls among a single or combination of option strategies. Try it for yourself.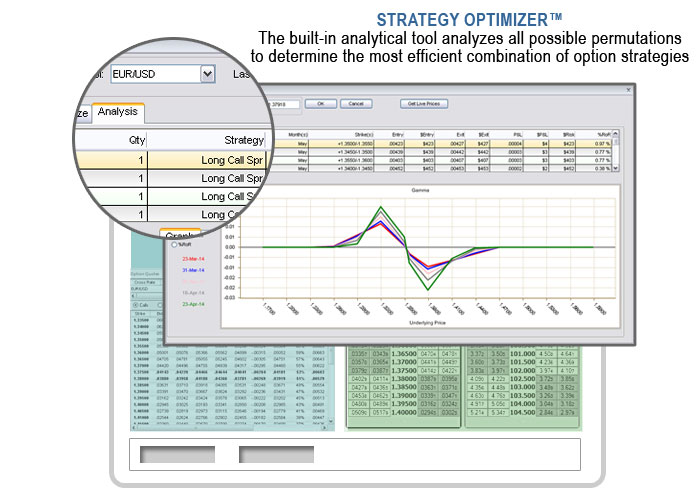 Smart Trading with Risk Manager™
Built-In Risk Management & Analysis Application
Another technical advantage bundled into ProTrader Plus™ is our proprietary risk-management system. which allows a trader to instantly determine the risk for any combination of spot or options.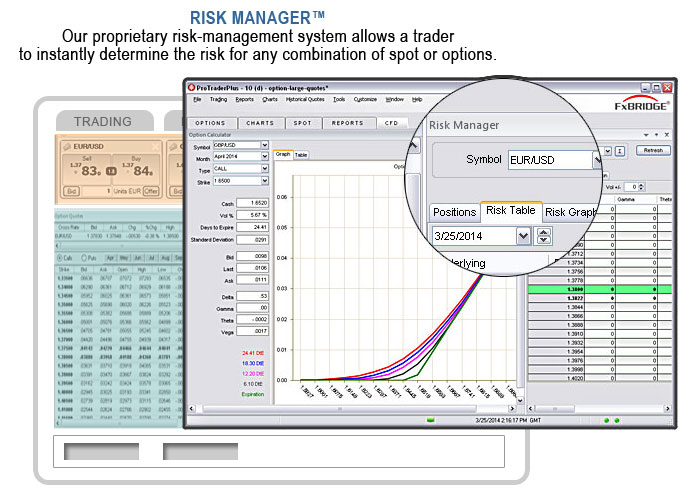 Option & Spot Exposure Analysis and Summaries
Real-time Account Analysis
Risk Manager & Portfolio Calculator
Value at Risk Reporting, Analysis & Management
Real-Time Unrealized P&L
In fact, ProTrader Plus™ provides traders with the same analytical tools professional money managers and institutional traders use.